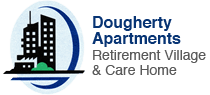 Key Technologies:
Cisco Enterprise Wireless Network
IP Camera Video Surveillance
Dougherty Apartments is an aged-care and retirement facility located in the Chatswood CBD, NSW. Spread over eight levels, Dougherty comprises of 150 residential units of which 68 are dedicated Residential Care units with 24 hour care staff.
2014 Wireless & Video Surveillance
In 2014, Dougherty Apartments announced that they would commence a major building renovation and IT upgrade. A multi-floor enterprise wireless network and IP surveillance system were the key IT upgrades requested. They required a secure managed wireless network which residents and staff could access seamlessly throughout the eight levels of the apartment. Security of the wireless network was a major requirement. The existing analogue video monitoring system was outdated, unreliable and inefficient. Dougherty were looking to utilise a modern video system which could integrate and make use of existing IT infrastructure.
As Dougherty's existing IT service provider, Apek was asked to consult, design and supply for this major IT upgrade.
The Solution
A multi-floor enterprise Cisco wireless solution will be the centrepiece of the IT upgrade which will provide the infrastructure for administrative network access, wireless nurse call distress buttons, real-time location system tracking (RTLS) of care residents, and residential internet access through wireless enabled devices. The wireless network will also allow Care staff to access the wireless network seamlessly throughout the building to administer medication using wireless enabled Toughbook's as well as monitor distress events from Care residents through RTLS charms and bracelets.
A complete onsite wireless site survey was conducted throughout the eight levels which assisted in determining the number and location of access points required. This wireless network would then be centrally managed and set up so that each resident and staff would have their own wireless login passwords. This will ensure that if a password was compromised, it would not jeopardise the entire wireless network security. The staff or residents would connect to their respective wireless groups and automatically be assigned to their respective network segment (VLAN) which would be isolated from others. A fully digital IP based surveillance system will replace the ageing analogue camera system. Being digital IP based, it will run off the same IP network as the rest of the system but again isolated on a separate network VLAN segment. The digital system will enable central management, greater flexibility storing video, and offer better software monitoring features which will greatly improve security and free up staff resources.
Conclusion
The 2014 wireless and video solutions will enable Dougherty staff and residents to efficiently and securely access data and monitor residents throughout the complex which they did not previously have. These upgrades work together to enable Dougherty to provide a better level of service and security to their residents and staff.